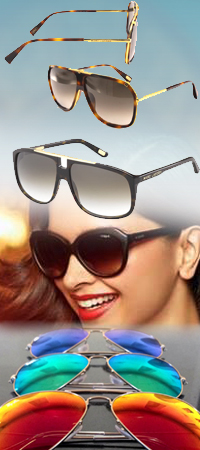 Sunglasses are a visual aid, variously termed spectacles or glasses, which feature lenses that are coloured or darkened to prevent strong light from reaching the eyes. In outdoor activity like riding, skiing and flying, the eye can receive more light than usual. It has been recommended to wear these kind of glasses whenever outside to protect the eyes from ultraviolet raditation, which can lead to the development of a cataract. Sunglasses can improve visual comfort and visual clarity by protecting the eye from glare. So if you may sometimes find yourself driving down the road, sun shining in your eyes, as you search in vain for those clip on or magnetically attached sun lenses that came with your prescription eyeglasses. At times like these, you might find that prescription sunglasses are much more convenient and more than worth the additional investment.
The right pair of designer sunglasses makes all the difference in the world, both in how you look or in how you feel after a long day outdoors in bright sunlight. finding that perfect pair of sunglasses that are really "you" is never easy. There's such a huge selection of sunglasses styles, proces and features that sometimes it's hard to decide which pair is best. Take a little time to research your purchase here, so you get the exact right sunglasses for your needs. What should you look for in a pair of sunglasses? Three big things: good eye protection, comfort and a fantastic style.
If you are thinking about buying a new pair of sunglasses, you've come to the right place, because you want your sunglasses to look good and to protect your eyes, and we can help you with both. We have A to Z in brands related to eyewear. We offer information about the hottest styles and trends in eyewear, from names like Gucci, Safilo, Rayban, Armani etc. We will help you fighre out which sunglasses fit your lifestyle and your face shape. We'll also offer up-to-date information about sunglasses.
With the weather warming up once again and spring break right around the corner, chances are good that you'll be spending a lot of time outdoors, and what's the easiest way to add some style and protect yourself from the sun? A new pair of sunglasses. Find out how to shop for a pair of sunglasses that will protect your eyes not a pair that merely looks good with us.