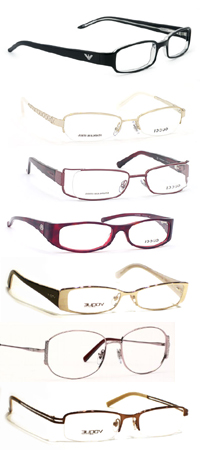 Eyeglasses are frames bearing lenses worn in front of the eyes normally for vision correction, eye protection or for protection from UV rays. Modern glasses are typically supported by pads on the bridge of the nose and by temples placed over the ears. Eyeglass frames are commonly made from metal or plastic. Lenses were originally made from glass, bt many are now made from various types of plastic. Not all glasses are designed solely for vision correction but are worn for protection, viewing visual information (such as sterescopy) or simply just for aesthetic or fashion values. Eyeglasses are corrective lenses mounted in frames that help those with vision problems see clearly. The lenses are shaped in order to bend light rays so that they will focus at the back of the eye, the retina.
Today eyeglasses come in a wide array of styles and designs. Frames are generally made of metal or plastic, and lenses are made of glass or plastic. Polycarbonate is a type of very hard plastic used for lenses. Robust and lightweight, it is scratch-resistant and provides 100% protection from ultraviolet radiation that can contribute to cataract formation. Along with lightweight frames. How to choose eyeglasses that suit your personality and lifestyle. Here are some tips of choosing eyeglasses:
Know Yourself
, means it is vital that your eyewear be chosen keeping in mind your individuality and personality.
Pay attention to your features
, means not all of us have the same features and looks, thus there can be no one pair of eyeglasses that can suit us all. While buying eyeglasses or eyewear, you should pay attention to your looks and you features.
Pay attention to your colouring
, means this is a major factor in the quest for the perfect pair of eye glasses. When choosing eyeglasses it is important to be aware of your skin tone as this will decide the color of your eyeglasses.
The lowdown on brands
, means if you want to buy branded eyeglasses may be of superior quality than try it on and think of buying it only if the pair is indeed doing something for your face and your overall looks.
Selecting proper lenses
, means make sure that the lens of your eyeglass is of the right size. When you wear your glasses, the lenses should be such that your eyes are in their center.
If you want to know more about eyeglasses so please contact at Gupta Chashma Ghar, Sirsa. Thus if you choose eyeglasses using our guidance, then the next time you wear your glasses, people will not be turning away from you but will be turning to give a second glance!