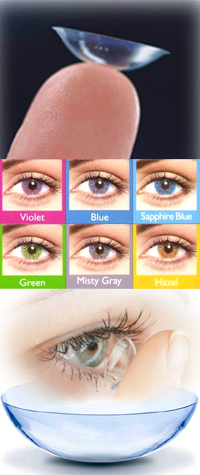 A contact lens is a corrective, cosmetic, or therapeutic lens usually placed on the cornea of the eye. Contact lenses usually serve the same corrective purpose as conventional glasses, but are lightweight and virtually invisible many commercial lenses are tented a faint blue to make them more visible when immersed in cleaning and storage solutions. Some cosmetic lenses are deliberately colored to alter the appearance of the eye. It has been estimated that 125 million people use contact lenses worldwide. People choose to wear contact lenses for various reasons. Obviously, many consider their appearance to be more attractive with contact lenses than with glasses. contact lenses are less affected by we weather, do not steam up, and provide a wider field of vision. They are more suitable for a number of sporting activities.
A corrective contact lens is a lens designed to improve vision. Contact lenses are simple to wear and care for and are almost undetectable. They are thin discs of plastic, curved on the inside to fit properly onto the surface of the eye, and shaped on the outside to correct and improve defective vision, for bandaging the eye after surgery, and cosmetic benefits e.g. to cover white scarring of the eye or to change the colour of the eye for fashion. Contact Lenses are a very popular method of correcting common vision problems such as nearsightedness, farsightedness and astigmatism as well as presbyopia.
Whether you need Soft Contact Lenses, Rigid Gas Permeable Contact Lenses, Contact Lenses for Astigmatism, Extended Wear Contact Lenses, Disposable or Planned Replacement Contact Lenses, or Specialty Contact Lenses that can change the color of your eye. Patients who an active lifestyle and participate in any type of sport or athletic activity such as biking, running, playing tennis or golf, skiing, sailing or really any physical activity, find that wearing contact lenses and being free of eyeglasses for these activities helps to make these activities even more enjoyable.
Some patients just prefer to have a more natureal appearance and feel that no matter how attractive an eyeglass frame they select, they just look better without wearing glasses. So Gupta Chashma Ghar, Sirsa are happy to help you with a through eye examination, contact lens evaluation and contact lens fitting in order to find out if you are a good canditate for contact lenses and what lens type are right for you.